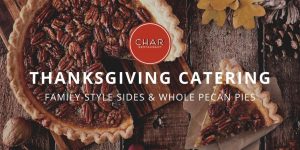 Bring Char to your holiday table!
This year, leave the cooking (and dishes!) up to us. Place your order for home-style sides and Pecan Pies to pick up before the big feast. All items will be packaged family-style with heating instructions.

FAMILY-STYLE SIDES
$3 per person
Garlic Mashed Potatoes
Creamed Spinach
Chipotle Sweet Potato Mash
Old Spencer Mill Grits
Cornbread Dressing (available by the pan only; half pan $30 | full pan $60)

HOUSE-MADE PECAN PIES
$30 | Wrapped $36
---

Order deadline for Thanksgiving: Monday, November 25th
Pickup deadline: Wednesday, November 27th by 5pm
To place your order, call this number: 615.626.6446 or email [email protected].