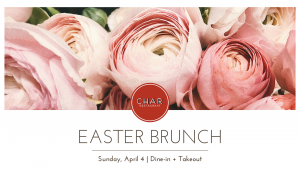 Celebrate Easter Sunday with Us!
We're offering two ways to celebrate Easter with Char this year! Dine-in and enjoy our full brunch & lunch menus beginning at 10am on Sunday, April 4th. Or, celebrate with us from a distance! Our full menus, new spring-inspired family meal packages and a special brunch family meal package created for the holiday will all be offered to-go.
View our brunch family meal package, and call us or click below to place your order by Friday, April 2nd at noon for pickup Sunday, April 4th between 10am-2pm.
We look forward to celebrating with you and your family this Easter!
BRUNCH FAMILY MEAL PACKAGE
feeds 4ppl for $60
Chicken & Biscuits
Fresh Fruit
Cheddar Grits

Call to order: 615.891.7181  |  Reserve your table online |  View our family meal packages